Interested in collecting Honeypots?
If anyone might be interested in collecting Honey pots, you might sign the guestbook or send an e-mail.
Send an email
In search of new ones.
I'm still in search of older pots. Not the "common" beehives, but special or old ones. They should have bees on it, or look clearly like containing honey. Mostly it's pottery or porcelain and sometimes glass.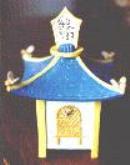 This the newest from the USA
This very unusual "Chinese" style honey pot has been made in the 90's in Florida.